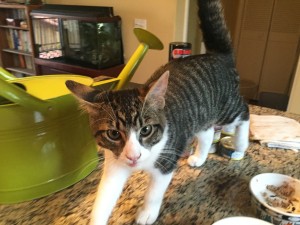 I find myself talking about dogs a lot. Dog walking, overnight doggy care. I also care for cats.
The first cat I owned was named Rosie. She lived in a house behind us here in University Heights. Rosie was a little cat, no more than 8lbs with a broken tail. The kids in the house she lived in used to torment poor Rosie, so she would come and hide in our place. One day her owners left and left her behind. So we adopted Rosie. We treated Rosie like a princess, but she always maintained her alley cat attitude. She did not care for sitting on laps, would not use a litter box, and insisted on maintaining her status as an indoor outdoor cat. She couldn't meow like a regular cat when she adopted us. She opened her mouth and nothing came out! Rosie found her voice living with us. Sadly, Rosie died of cancer some years ago, but we always remember her with very fond memories.
Man Friday Pet Care will take good care of your kitty cat in your absence. Services include feeding, changing water, litter box clean up as well as playtime and brushing.
The most recent addition to my my cat sitting clients is Little Guy. He is fitting in with his new brother and sister Max & 99, although 99 tends to want to be left alone while the boys play!