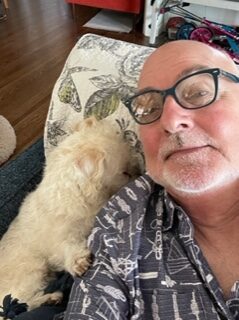 My name is Keith Langhorn. I am the sole proprietor of Man Friday Pet Care located in the University Heights neighborhood of San Diego. Originally from London, England, I relocated to San Diego in 1987, at the age of 34.
My first job in San Diego was as a counselor at a drug and alcohol rehab center in the back country of San Diego County, where I worked for eleven years. After helping many people over the years doing this rewarding work I decided a change was in order, and Man Friday was born!
I have always had pets in my life, both here and in London, and am quite fortunate that I've been entrusted with the care of so many wonderful pets. As you may have guessed from my work experience, I enjoy caring for others whether they be human or otherwise.
I have been been adopted by two pets since living in University Heights. The first, a little kitty called Rosie. She came in through the back door of my house to escape the abuse she was suffering at the hands of her owners. Rosie never left, and although she lived the life of a Princess, she always kept her alley cat attitude. She lived her life out in comfort.
My next companion was a pug dog named Susie. Just like Rosie, she decided she was going to live with me. She appeared on my doorstep early one morning in 2003. Despite my efforts to find her owners, Susie was never claimed so I legally adopted her. She was the light of my life. Susie used to snore like an F14 taking off, shed continuously, broke wind and generally ruled the roost. She was adorable! Susie passed away at 13 years old.
I enjoy being Man Friday and hope that you will allow me to care for your pets, house and home during your absence. I am fully insured and have excellent references available from long time clients.
I'm ready to pamper your pets!
Email or call today.