We know Diego and Frida are in good hands when with you.
We can't say enough how much we appreciate the care you give to our two dogs, Diego and Frida. Not only they are comfortable being around you and enjoy their daily walk with you, but we feel so reassured that you check on them daily.
Also, we can't say thank you enough for staying at our house and taking care of the dogs when we were in Europe for a week last summer. We could not have done it without you.
We truly commend you for your care, patience, integrity, and reliability.
We know Diego and Frida are in good hands when with you.
Thank you again,
Richard & Arturo
Dependable, competent caretaker for our dogs
I can't say enough good things about Keith and the care he provides for my dogs. They really love him and he has been one of the most dependable, competent caretakers I've ever used.
Melissa T Normal Heights
Best dog sitter we ever had
Man Friday (Keith) has been watching our two doggies for over 5 years. He is by far the best dog sitter we've ever had. He updates us daily with pics and videos. Takes great care of our home. He doesn't double book or send someone else that we don't over to our house. Like other sitters we've had. We are always happy when we know he is available to take care of our dogs and home.

Kelly and Scott SDSU/College
Keith is terrific!
Keith is terrific! He is reliable and, most important, our dogs love him and always greet him with great affection. We have used his services for many years and will again this October-November when we take our annual vacation. Among the many things we appreciate about Keith is that he actually spends time with the dogs - as opposed to many dog sitters who only sleep at the house and are gone all day, leaving the dogs alone.
Keith has taken our dogs to the vet when necessary and stays in daily contact with us when we are away, sending us videos of our beloved canines. We KNOW that they will be - and are - well taken care of. Moreover, our house is always clean and orderly and our plants watered. (I should add that he also takes care of our tortoise, Mr. Aziz.)
My only hesitation in writing this review is that my positive words to prospective clients may make him less available to us! We do count on him. But he deserves a good review, so here it is. I recommend him heartily.
Jo-Anne B Mission Hills
Keith is a wonderful pet sitter!
Keith is a wonderful pet sitter! I am a very worried cat mom when it comes to going out of town and leaving my senior kitty, Moose, at home, but I can trust that Keith will give her the best of care. He is very thorough during his visits and doesn't mind my obnoxiously long list of instructions! Keith is very considerate and even sends picture/video updates so that I can feel at ease knowing that Moose is happy and in good hands while I'm away. Thanks Keith!
Susan C North Park
reliable, honest & trustworthy
Keith is reliable, honest & trustworthy. My two pugs adore him. I wouldn't leave my dogs with anyone else!
Jamie S Allied Gardens
cares for our 'boys' as we do
We consider Keith part of our family; he is professional, thoughtful, efficient and cares for our 'boys' as we do. I cannot imagine placing our pups with anyone else.
Debra G Mission Hills
Keith is the best dog walker!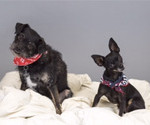 Keith is the best! He comes to my home once a week to walk my two dogs while I'm at work. It's such a relief to know that on days when they might be alone for 8 to 10 hours, they are still getting a walk and having some human interaction in the time while I'm gone. I was nervous at first because my dog Samus can be skittish around men, but Keith is so friendly, calm, and patient with her that she's totally warmed to him. Ridley absolutely loves him. Did I mention that they're a Chihuahua and a Chihuahua/Terrier mix? They can certainly be a handful, especially while out on leash. But Keith handles them beautifully. It's nice to know that there's someone like Keith out there who can look after my pets while I'm away.
Deborah R Kensington
highly recommended
Keith is by far the best dog walker, sitter and caregiver that I've ever had, and I've had a few. He is dependable, on-time and my boys love him! Whenever I travel, Keith stays in my home and is clean, responsible and extremely trustworthy. I highly recommend him to take care of your furry family members.
Kevin L Talmadge